In the Eco Aware line, we make use of certified fabrics derived from more sustainable sources. We inspect our suppliers in terms of the observance of human rights regarding working conditions and remuneration, as well as the respect to the natural environment. Each year, we conduct over 1300 inspections of factories, and in Bangladesh, we entrust assessments to an international auditor – SGS. We constantly increase the share of the Eco Aware line in our collection.
ORGANIC
MATERIALS
In the case of such organic materials as cotton, linen, hemp fibre or silk, we require that our suppliers have either GOTS or OCS certification. Organic cotton is grown with the use of ecological methods. Its cultivation doesn't pollute surface waters, soil or air. It's hand-harvested, according to the natural cycle of growth. Compared to conventional cotton, organic cotton is more pleasant to the touch, easier to dye and less allergenic.

Organic linen is grown without the use of plant protection chemicals or artificial fertilisers. Its cultivation requires less water than the cultivation of cotton, and it enhances soil fertility. Linen fabrics are biodegradable and breathable; they absorb sweat perfectly and keep the skin cool in hot weather.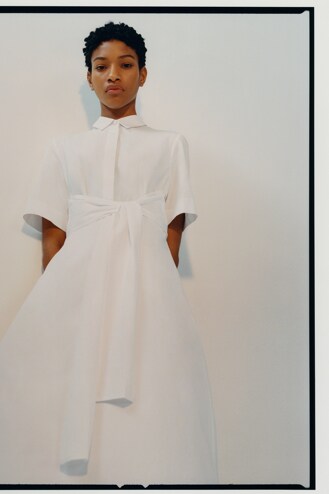 CELLULOSE
FIBRES FROM SUSTAINABLE CROPS
In our collection, we use fabrics with the FCL purchase confirmation issued by Lenzing. These are: Tencel™, Refibra™, EcoVero™ and Modal™. All cellulosic fibres used in their production are derived from trees grown in a sustainable way.
Tencel™ is a certified lyocell, in other words, a material derived from tree cellulose. Its production takes place in a closed-loop process, and the material itself is biodegradable. It demonstrates excellent breathing properties, it's soft and doesn't cause allergies.

Modal™ is an exceptionally soft fibre that is more durable than viscose and sourced chiefly from the beech wood found in the sustainably-managed forests of Austria and the neighbouring countries. It is resistant to shrinking and pilling, and absorbs moisture perfectly.
EcoVero™ is an ecological substitute for viscose, obtained in a closed-loop production process. Compared to the manufacturing of conventional viscose, the production of EcoVero™ reduces the emissions of greenhouse gases by up to 50%.

Naia™ is an ecological counterpart of acetate. Fabrics made from Naia™ are very pleasant to the touch, hypoallergenic, quick-drying and featuring shiny finish. The fibre is derived from tree cellulose from supervised crops.
SORONA®
SORONA® is a biodegradable fibre sourced from inedible corn sugar. It's elastic – it demonstrates excellent stretching properties yet withstands deformations; it is also quick-drying, easy to dye, resistant to creasing and pilling, and it perfectly absorbs moisture from the skin. Compared to the manufacturing of nylon, the production of SORONA® reduces energy consumption by 30% and the emissions of greenhouse gases by 63%.
RECYCLED
MATERIALS
In our Eco Aware collection, we use certified recycled materials. We work with recycled cotton, linen, silk, wool, polyester and polyamide. In all cases, we require that our suppliers have either GRS or RCS certification.

In our collection, you will find Repreve®, in other words, recycled polyester made from 100% used plastic bottles. Five plastic bottles yield enough fibres to make one T-shirt, whereas seven bottles – one pair of jeans. Compared to the manufacturing of traditional polyester, the production of Repreve® fibres reduces energy consumption by 45%, water consumption by 20% and the emissions of greenhouse gases by over 30%. It also contributes to the waste reduction.
Segregation of recovered materials in terms of color and quality
Breaking the cuttings into smaller pieces
Transformation into fiber
Combing the fiber several times
Creation of yarn
Natural fiber recycling process
CLOSE THE LOOP
Do you have clothes you no longer wear? Put them into a container located next to the cash register at one of our 20 designated stores. All the collected things are donated to Towarzystwo Pomocy im. św. Brata Alberta, a public benefit organisation that runs night shelters across Poland. By 2023, you will have been able to bring your textiles to any of our stores all over the world.
#RECYCLEDBOX
We won't use plastic to pack your order – you'll receive your purchase in a recycled cardboard box made of 100% recyclable waste paper. The box features an additional fastening thanks to which you can re-use it to return the purchased items.
#ECOAWARE